Browse titler af samme forfatter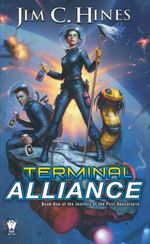 The Krakau came to Earth to invite humanity into a growing alliance of sentient species, only to arrive after a mutated plague turned humanity into shambling, near-unstoppable animals, and basically destroyed human civilization. You know—your standard apocalypse. Now, a century after the Krakau fixed us, humanity is still not exactly what they once were, but at least they're no longer trying to eat everyone. Mostly. Marion "Mops" Adamopoulos is surprisingly bright (for a human). As a lieutenant on the Earth Mercenary Corps Ship Pufferfish, she's in charge of the Shipboard Hygiene and Sanitation team. When a bioweapon attack wipes out the Krakau command crew and reverts the rest of the humans to their feral state, only Mops and her team are left with their minds intact. Now, as Mops and her team of space janitors and plumbers struggle to keep the Pufferfish functioning and their crew at bay, they stumble onto a conspiracy that could threaten the entire alliance…a conspiracy born from the truth of what happened on Earth all those years ago. Story Locale: Outer space Series Overview: Marion "Mops" Adamopoulos, head of a spaceship's Health and Sanitation crew, guides her team through a zombie infestation and their discovery that the human history they took for granted isn't quite the whole story.
Udgivet af DAW
Jim C. Hines
Jim C. Hines began writing in the early 90s, while working on a degree in psychology from Michigan State University. His first professional sale was the award-winning "Blade of the Bunny," which took first place in the 1998 Writers of the Future competition and was published in Writers of the Future XV. For many years, he focused on short fiction. His work has appeared in more than forty magazines and anthologies. During this time, he also picked up a Masters degree in English from Eastern Michigan University. His first published fantasy novel was Goblin Quest, a funny, popular tale about a nearsighted goblin runt named Jig. Thanks to the work of his wonderful agent, the book has since been translated into several other languages, and was picked up by DAW Books, along with sequels Goblin Hero and Goblin War. He's now working on a new series about a trio of butt-kicking princesses. The Stepsister Scheme came out in January of 2009, and DAW has contracted him for three more books in the series. Jim lives in mid-Michigan with his wife and children, who have always shown remarkable tolerance for his bizarre and obsessive writing habits.