Browse titler i samme serie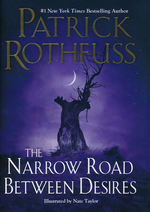 Patrick Rothfuss returns to the wildly popular Kingkiller Chronicle universe with a stunning reimagining of "The Lightning Tree." Expanded to twice its previous length and lavishly illustrated by Nathan Taylor, this touching stand-alone story is sure to please new readers and veteran Rothfuss fans alike. Bast knows how to bargain. The give-and-take of a negotiation is as familiar to him as the in-and-out of breathing; to watch him trade is to watch an artist at work. But even a master's brush can slip. When he accepts a gift, taking something for nothing, Bast's whole world is knocked askew, for he knows how to bargain—but not how to owe. From dawn to midnight over the course of a single day, follow the Kingkiller Chronicle's most charming fae as he schemes and sneaks, dancing into trouble and back out again with uncanny grace. The Narrow Road Between Desires is Bast's story. In it he traces the old ways of making and breaking, following his heart even when doing so goes against his better judgement. After all, what good is caution if it keeps him from danger and delight?
Udgivet af DAW
Patrick Rothfuss
Patrick Rothfuss had the good fortune to be born in Wisconsin where long winters and lack of cable television brought about a love of reading and writing. His mother read to him as a child, and his father taught him to build things. If you are looking for the roots of his storytelling, look there. While wandering through college, Pat learned he had a knack for writing. He wrote poetry for a local literary series, a satirical advice column for the local paper, and scripts for a radio comedy show. Two months before he graduated, Pat finally finished the project he had been working on for over seven years, a mammoth story centering around the life of a man named Kvothe. After two excruciating years of grad school, Pat returned to teach at the University he had grown to love as a student. During this time his book was rejected by roughly every agent in the known universe. In 2002 a piece of Pat's novel, cleverly disguised as a short story, won first place in the Writers of the Future contest. Pat's story, The Road to Levinshir, was published in Volume 18 of their anthology, and they flew him out to their fabulous writers workshop in LA. It was at that workshop that Pat met Kevin Anderson, who introduced him to his agent, Matt Bialer. Eventually Matt brought Pat in contact with his current, beloved editor, Betsy Wollheim, president of Daw Books. And that's how the Name of the Wind came into existence. Pat continues to live in central Wisconsin. He still lacks cable television, and the long winters force him to stay inside and write. He teaches at the college he grew to love as a student, and acts as advisor for the College Feminists and the local Fencing Club. When not reading and writing, Pat wastes his time playing video games, holds symposia at his house, and dabbles with alchemy in his basement.