Browse titler i samme serie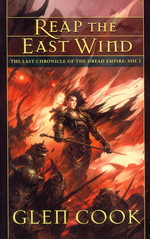 It has ended. It begins again. In Kavelin, Lady Nepanthe''s new life with the wizard Varthlokkur is disturbed by visions of her lost son, while King Bragi Ragnarson and Michael Trebilcock scheme to help the exiled Princess Mist re-usurp her throne - under their thumb. In Shinsan, a pig-farmer''s son takes command of Eastern Army, while Lord Kuo faces plots in his council and a suicide attack of two million Matayangans on his border. But in the desert beyond the Dread Empire, a young victim of the Great War becomes the Deliverer of an eons-forgotten god, chosen to lead the legions of the dead. And the power of his vengeance will make a world''s schemes as petty as dust, blown wild in the horror that rides the east wind. This volume marks the beginning of the end. Reap the East Wind is the first step on the road to the long-delayed final chapter of Glen Cook''s legendary Dread Empire series.
Udgivet af Night Shade Books
Glen Cook
Glen Cook's love of writing began in grade school, and in high school he wrote the occasional article for his school's newspaper. After high school, Cook spent time in the United States Navy and later worked his way through college, leaving little time for his writing endeavors. Cook began to write in earnest while working for General Motors at an auto assembly plant. Cook claims that his job was simple enough to leave him ample time to write while at work; in fact, Cook admits to having written as many as three books per year while working at the plant. It was during this time that Cook wrote his first novel of The Black Company, a gritty fantasy series that follows an elite mercenary unit through several decades of their history. The series, currently 10 novels long, has become something of a cult classic, especially among current and former members of the military. When asked about the series' popularity among soldiers, Cook replied: "The characters act like the guys actually behave. It doesn't glorify war; it's just people getting on with the job. The characters are real soldiers. They're not soldiers as imagined by people who've never been in the service. That's why service guys like it.". Cook is also well known for his Garrett P.I. series, which tells the haphazard adventures of hardboiled detective Garrett, and his Dread Empire series, which highlights Cook's earlier published work. Cook is currently retired from his job at GM, living with his wife, Carol, and children (Justin, Chris, and Mike) in St. Louis, Missouri. Although he can now devote himself full-time to his writing career, he feels he was actually more productive while he was still employed at his old job.