Browse titler i samme serie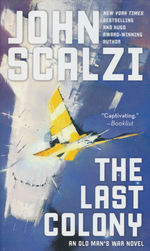 Retired from his fighting days, John Perry is now village ombudsman for a human colony on distant Huckleberry. With his wife, former Special Forces warrior Jane Sagan, he farms several acres, adjudicates local disputes, and enjoys watching his adopted daughter grow up. That is, until his and Jane's past reaches out to bring them back into the game — as leaders of a new human colony, to be peopled by settlers from all the major human worlds, for a deep political purpose that will put Perry and Sagan back in the thick of interstellar politics, betrayal, and war.
Udgivet af TOR
John Scalzi
Scalzi was born in California and spent his childhood there, primarily in the Los Angeles suburbs of Covina, Glendora and Claremont. Scalzi went to high school with noted blogger Josh Marshall; both were members of the class of 1987. After his stint at The Webb Schools of California, Scalzi attended The University of Chicago, where he was a classmate of Pulitzer Prize-winning playwright David Auburn. Scalzi's thesis advisor, for a brief time, was Saul Bellow. Scalzi abandoned his course of study with Bellow when he became Student Ombudsman for the University. During his 1989–1990 school year Scalzi was also the editor-in-chief of The Chicago Maroon. After graduating in 1991, Scalzi took a job as the film critic for the Fresno Bee newspaper, eventually also becoming a humor columnist. In 1996 he was hired as the in-house writer and editor at America Online and moved to Sterling, Virginia, with his wife, Kristine Ann Blauser, whom he had married in 1995. He was laid off in 1998, and since then he has been a full-time freelance writer and author. In 2001 Scalzi, his wife, and their daughter, Athena Marie, who was born in 1998, moved to Bradford, Ohio, to be closer to family. On 15 March 2007, Scalzi announced himself as a write-in candidate for president of the Science Fiction and Fantasy Writers of America, citing disagreement with the only ballot-listed candidate's vision for the future of the organization. He was not elected.