Browse titler i samme serie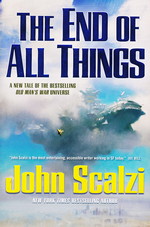 Humans expanded into space…only to find a universe populated with multiple alien species bent on their destruction. Thus was the Colonial Union formed, to help protect us from a hostile universe. The Colonial Union used the Earth and its excess population for colonists and soldiers. It was a good arrangement...for the Colonial Union. Then the Earth said: no more.   Now the Colonial Union is living on borrowed time—a couple of decades at most, before the ranks of the Colonial Defense Forces are depleted and the struggling human colonies are vulnerable to the alien species who have been waiting for the first sign of weakness, to drive humanity to ruin. And there's another problem: A group, lurking in the darkness of space, playing human and alien against each other—and against their own kind —for their own unknown reasons.   In this collapsing universe, CDF Lieutenant Harry Wilson and the Colonial Union diplomats he works with race against the clock to discover who is behind attacks on the Union and on alien races, to seek peace with a suspicious, angry Earth, and keep humanity's union intact...or else risk oblivion, and extinction—and the end of all things.
Udgivet af TOR
John Scalzi
Scalzi was born in California and spent his childhood there, primarily in the Los Angeles suburbs of Covina, Glendora and Claremont. Scalzi went to high school with noted blogger Josh Marshall; both were members of the class of 1987. After his stint at The Webb Schools of California, Scalzi attended The University of Chicago, where he was a classmate of Pulitzer Prize-winning playwright David Auburn. Scalzi's thesis advisor, for a brief time, was Saul Bellow. Scalzi abandoned his course of study with Bellow when he became Student Ombudsman for the University. During his 1989–1990 school year Scalzi was also the editor-in-chief of The Chicago Maroon. After graduating in 1991, Scalzi took a job as the film critic for the Fresno Bee newspaper, eventually also becoming a humor columnist. In 1996 he was hired as the in-house writer and editor at America Online and moved to Sterling, Virginia, with his wife, Kristine Ann Blauser, whom he had married in 1995. He was laid off in 1998, and since then he has been a full-time freelance writer and author. In 2001 Scalzi, his wife, and their daughter, Athena Marie, who was born in 1998, moved to Bradford, Ohio, to be closer to family. On 15 March 2007, Scalzi announced himself as a write-in candidate for president of the Science Fiction and Fantasy Writers of America, citing disagreement with the only ballot-listed candidate's vision for the future of the organization. He was not elected.