Browse titler i samme serie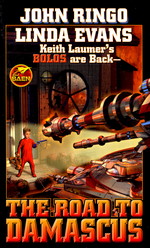 When a ruthless political regime seizes power on a world struggling to recover from alien invasion, a former war hero finds herself leading a desperate band of freedom fighters. Kafari Khrustinova, who fought Deng infantry from farmhouses and barns, finds herself struggling to free her homeworld from an unholy political alliance, headed by the charismatic and ambitious Vittori Santorini, which has seduced her young daughter with its propaganda and subverted the planets Bolo, using the war machine to crush all political opposition. To free her homeworld, Kafari must somehow cripple or kill the Bolo she once called friend. Unit SOL-0045, Sonny, is a Mark XX Bolo, self-aware and intelligent. When Sonnys human commander is forced off-world, Sonny tries to navigate his way through ambiguous moral and legal issues, sinking into deep confusion and electronic misery. He eventually faces a dark night of the soul, with no guarantee that he will understandlet alone makethe right decision. And caught in the middle of this volatile battlefield is Yalena Khrustinova, Kafaris young daughter. Will she open her eyes in time to save herselfand millions of innocentsor will Santorinis relentless brainwashing campaign continue to blind her while the tyrant engineers the ultimate destruction of a helpless and enslaved population?
Udgivet af Baen
John Ringo
John Ringo (b. March 22, 1963) is an American science fiction and military fiction author who writes full time. He has had several New York Times best sellers. His books range from straightforward science fiction to a mix of military and political thrillers. To date, he has over two million copies of his books in print, and has been translated into seven different languages.