Browse titler i samme serie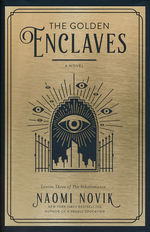 The one thing you never talk about while you're in the Scholomance is what you'll do when you get out. Not even the richest enclaver would tempt fate that way. But it's all we dream about, the hideously slim chance we'll survive to make it out the gates and improbably find ourselves with a life ahead of us, a life outside the Scholomance halls. And now the impossible dream has come true. I'm out, we're all out--and I didn't even have to turn into a monstrous dark witch to make it happen. So much for my great-grandmother's prophecy of doom and destruction. I didn't kill enclavers, I saved them. Me, and Orion, and our allies. Our graduation plan worked to perfection: we saved everyone and made the world safe for all wizards and brought peace and harmony to all the enclaves of the world. Ha, only joking! Actually it's gone all wrong. Someone else has picked up the project of destroying enclaves in my stead, and probably everyone we saved is about to get killed in the brewing enclave war on the horizon. And the first thing I've got to do now, having miraculously got out of the Scholomance, is turn straight around and find a way back in.
Udgivet af Del Rey
Naomi Novik
Naomi Novik was born in New York in 1973, a first-generation American, and raised on Polish fairy tales, Baba Yaga, and Tolkien. She studied English Literature at Brown University and did graduate work in Computer Science at Columbia University before leaving to participate in the design and development of the computer game Neverwinter Nights: Shadows of Undrentide. Her first novel, His Majesty's Dragon, was published in 2006 along with Throne of Jade and Black Powder War, and has been translated into 23 languages. She has won the John W. Campbell Award for Best New Writer, the Compton Crook Award for Best First Novel, and the Locus Award for Best First Novel. The fourth volume of the Temeraire series, Empire of Ivory, published in September 2007, was a New York Times bestseller. She is one of the founding board members of the Organization for Transformative Works, a nonprofit dedicated to protecting the fair-use rights of fan creators, and herself a fanfic writer and fan vidder. Naomi lives in New York City with her husband and six eight computers. (They multiply.) You can find out more at her livejournal.