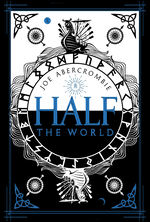 Sometimes a girl is touched by Mother War. Thorn is such a girl. Desperate to avenge her dead father, she lives to fight. But she has been named a murderer by the very man who trained her to kill. Sometimes a woman becomes a warrior. She finds herself caught up in the schemes of Father Yarvi, Gettland's deeply cunning minister. Crossing half the world to find allies against the ruthless High King, she learns harsh lessons of blood and deceit. Sometimes a warrior becomes a weapon. Beside her on the journey is Brand, a young warrior who hates to kill, a failure in his eyes and hers, but with one chance at redemption. And weapons are made for one purpose. Will Thorn forever be a pawn in the hands of the powerful, or can she carve her own path?
Udgivet af Harper Collins Publishers U.K.
Joe Abercrombie
Joe Abercrombie was born on 31 December 1974 in Lancaster, England. He was educated at Lancaster Royal Grammar School and Manchester University, where he studied psychology. He moved into television production before taking up a career as a freelance film editor. During a break between jobs he began writing The Blade Itself in 2002, completing it in 2004. It was published by Gollancz in 2006 and was followed by two other books in The First Law Trilogy, Before They Are Hanged and Last Argument of Kings. In early 2008 Joe Abercrombie was one of the contributors to the BBC Worlds of Fantasy series, alongside other contributors such as Michael Moorcock, Terry Pratchett and China Miéville.[1] Abercrombie lives in Bath, Somerset with his wife and two children.