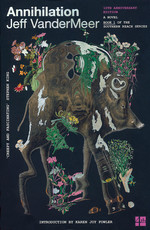 If J.J. Abrams and Margaret Atwood collaborated on a novel, it might look something like 'Annihilation', the first in an extraordinary trilogy. For thirty years, Area X, monitored by the secret agency known as the Southern Reach, has remained mysterious and remote behind its intangible border– an environmental disaster zone, though to all appearances an abundant wilderness. Eleven expeditions have been sent in to investigate; even for those that have made it out alive, there have been terrible consequences. 'Annihilation' is the story of the twelfth expedition and is told by its nameless biologist. Introverted but highly intelligent, the biologist brings her own secrets with her. She is accompanied by a psychologist, an anthropologist and a surveyor, their stated mission: to chart the land, take samples and expand the Southern Reach's understanding of Area X. But they soon find out that they are being manipulated by forces both strange and all too familiar. An unmapped tunnel is not as it first appears. An inexplicable moaning calls in the distance at dusk. And while each member of the expedition has surrendered to the authority of the Southern Reach, the power of Area X is far more difficult to resist. 'Annihilation' is the first volume in Jeff VanderMeer's Southern Reach trilogy, which will be published throughout 2014: volume two ('Authority') in May, and volume three ('Acceptance') in September 2014.
Udgivet af Harper Collins Publishers U.K.
Jeff VanderMeer
Jeffrey Scott VanderMeer (born July 7, 1968 in Bellefonte, Pennsylvania) is an American writer, editor and publisher. He is best known for his contributions to the New Weird and his stories about the city of Ambergris, in books like City of Saints and Madmen. He was born in Bellefonte, Pennsylvania, but spent much of his childhood in the Fiji Islands, where his parents worked for the Peace Corps. This experience, and the resulting trip back to the United States through Asia, Africa, and Europe, deeply influenced him. His work, both books and short stories, has been translated into over twenty languages. The Thackery T. Lambshead Pocket Guide to Eccentric & Discredited Diseases may be his most famous anthology, and is considered a cult classic, still in print along with his Leviathan original fiction series. VanderMeer's reviews and essays have appeared in The Washington Post Book World, Publishers Weekly, and many others. He is a regular columnist for the Amazon book-culture blog, and has served as a judge for the Eisner Awards, among others, and has been a guest speaker at such diverse events as the Brisbane Writers Festival, Finncon in Helsinki, and the American Library Association annual conference. His multi-media presentations and lectures on a variety of topics have been given all over the world, and he makes frequent public appearances, including teaching at the Clarion Workshop and Trinity Prep School. Recently, VanderMeer began to experiment in other media, resulting in a movie based on his novel Shriek that featured an original soundtrack by rock band The Church and a Play Station Europe animation of his story "A New Face in Hell" by animator Joel Veitch. Jeff VanderMeer lives in Tallahassee, Florida, with his wife, Ann, and three cats.