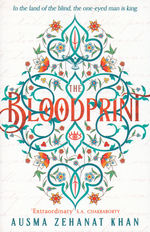 A dark power called the Talisman has risen in the land, born of ignorance and persecution. Led by a man known only known as the One-eyed Preacher, it is a cruel and terrifying movement bent on world domination—a superstitious patriarchy that suppresses knowledge and subjugates women. And it is growing. But there are those who fight the Talisman's spread, including the Companions of Hira, a diverse group of influential women whose power derives from the Claim—the magic inherent in the words of a sacred scripture. Foremost among them is Arian and her apprentice, Sinnia, skilled warriors who are knowledgeable in the Claim. This daring pair have long stalked Talisman slave-chains, searching for clues and weapons to help them battle their enemy's oppressive ways. Now, they may have discovered a miraculous symbol of hope that can destroy the One-eyed Preacher and his fervid followers: The Bloodprint, a dangerous text the Talisman has tried to erase from the world. Finding a copy of The Bloodprint promises to be their most dangerous undertaking yet, an arduous journey that will lead them deep into Talisman territory. Though they will be helped by allies—a loyal ex-slave and Arian's former confidante and sword master—both Arian and Sinnia know that this mission may well be their last.
Udgivet af Harper Collins Publishers U.K.
Ausma Zehanat Khan
Ausma Zehanat Khan is a Canadian novelist and author of crime and fantasy novels. According to the Washington Post, "Throughout Getty and Khattak's solid and comprehensive investigation, Khan's talents are evident. This first in what may become a series is a many-faceted gem. It's a sound police procedural, a somber study of loss and redemption and, most of all, a grim effort to make sure that crimes against humanity are not forgotten."