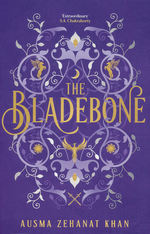 Armed with the powerful sorcery of the Bloodprint and supported by the Talisman, the oppressive One-Eyed Preacher is on the verge of conquering Ashfall, the Black Khan's capital in the west. Yet not all is lost for Sinnia, Arian, and the Citadel of Companions. If these brave female warriors can find an ancient magic weapon known as the Bladebone, they can defeat the Preacher and crush his cruel regime. Neither Sinnia and Arian, nor their allies, the Mages of Khorasan, know the Bladebone's whereabouts, and not all may survive the search to uncover it. Pursued by a nefarious enemy aligned with the Preacher, they become separated, each following a different path. Then, in their darkest hour, unexpected help appears. But is the Khanum of Black Aura a friend or foe? Arian may discover the answer too late. When the secret of the Bladebone is finally revealed, the knowledge comes at a devastating price for Arian. As the capital falls, only Hira, home of the Citadel of Companions, stands in the way of the Preacher's victory. While the Companions rise to defend their home from enemies outside and within, Arian must face off in a cataclysmic battle with the Preacher that pits the powers of the Bloodprint against the Sana Codex. For those who survive, Khorasan will never be the same.
Udgivet af Harper Collins Publishers U.K.
Ausma Zehanat Khan
Ausma Zehanat Khan is a Canadian novelist and author of crime and fantasy novels. According to the Washington Post, "Throughout Getty and Khattak's solid and comprehensive investigation, Khan's talents are evident. This first in what may become a series is a many-faceted gem. It's a sound police procedural, a somber study of loss and redemption and, most of all, a grim effort to make sure that crimes against humanity are not forgotten."