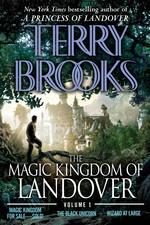 Capture the fantasy, thrills, and far-flung adventure of the first three novels in Terry Brooks's enchanting Magic Kingdom of Landover series now for the first time in one gripping volume. Chicago lawyer Ben Holiday can't fathom what lies ahead when he purchases Landover–a magical kingdom of chivalry and sorcery–from Meeks, the mysterious seller who placed the ad. Weary and jaded, Ben clings to the ad's promise: "Escape into your dreams." But Landover is not the enchanted idyll he expected. The kingdom is in ruin. The barons refuse to recognize Ben as King, a dragon is decimating the countryside, and a demon lord has challenged any prospective ruler to a fatal duel. To make matters worse, the Paladin, renowned champion of the Kings of Landover, seems to be merely a legend. Ben's only allies are a bumbling court magician, a talking dog turned court scribe, and the beautiful Willow, who is part girl, part tree. With his friends in tow, Ben sets out to claim the throne. But when Meeks decides he wants Landover back, Ben will face supernatural foes of every stripe to prove himself worthy of the kingship. The question is: Can he survive? About the Author Terry Brooks is the New York Times bestselling author of more than twenty-five books, including the Genesis of Shannara novels Armageddon's Children and The Elves of Cintra; The Sword of Shannara; the Voyage of the Jerle Shannara trilogy: Ilse Witch, Antrax, and Morgawr; the High Druid of Shannara trilogy: Jarka Ruus, Tanequil, and Straken; the nonfiction book Sometimes the Magic Works: Lessons from a Writing Life; and the novel based upon the screenplay and story by George Lucas, Star Wars®: Episode I The Phantom Menace.™ His novels Running with the Demon and A Knight of the Word were selected by the Rocky Mountain News as two of the best science fiction/fantasy novels of the twentieth century. The author was a practicing attorney for many years but now writes full-time. He lives with his wife, Judine, in the Pacific Northwest.
Udgivet af Ballantine
Terry Brooks
Amerikansk fantasy forfatter og tidligere advokat. Brooks fik udgivet sin første roman , The Sword of Shannara" i 1977. Den blev en bestseller og han har skrevet nye bøger i serien lige siden. Han var den første fantasy forfatter som kom på bestsellerlisterne. Udover "Shannara" serien skriver Brooks også serien, "Magic Kingdom" samt "A Knight of the Word" serien. Han regner med at skrive en ny "Magic Kingdom" bog snart.