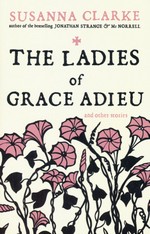 From the author of the award-winning, internationally bestselling Jonathan Strange & Mr. Norrell, an enchanting collection of stories. Set in versions of England that bear an uncanny resemblance to the world of Strange and Norrell, these stories are brimming with all the ingredients of good fairy tales: petulant princesses, vengeful owls, ladies who pass their time in embroidering terrible fates, endless paths in deep, dark woods, and houses that never appear the same way twice. Their heroines and heroes include the Duke of Wellington, a conceited Regency clergyman, an eighteenth-century Jewish doctor, Mary, Queen of Scots, Jonathan Strange, and the Raven King himself. The Ladies of Grace Adieu is the perfect introduction to a world where charm is always tempered by eerieness, and picaresque comedy is always darkened by the disturbing shadow of Faerie.
Udgivet af Bloomsbury
Susanna Clarke
Susanna Clarke was born in Nottingham in 1959, the eldest daughter of a Methodist Minister. A nomadic childhood was spent in towns in Northern England and Scotland. She was educated at St Hilda's College, Oxford, and has worked in various areas of non-fiction publishing, including Gordon Fraser and Quarto. In 1990 she left London and went to Turin to teach English to stressed-out executives of the Fiat motor company. The following year she taught English in Bilbao. She returned to England in 1992 and spent the rest of that year in County Durham, in a house that looked out over the North Sea. There she began working on her first novel, Jonathan Strange & Mr Norrell, published by Bloomsbury in October 2004. From 1993 to 2003 Susanna Clarke was an editor at Simon and Schuster's Cambridge office, where she worked on their cookery list. She has published seven short stories and novellas in US anthologies. One, The Duke of Wellington Misplaces His Horse, first appeared in a limited-edition, illustrated chapbook from Green Man Press. Another, Mr Simonelli, or The Fairy Widower, was shortlisted for a World Fantasy Award in 2001. Susanna lives in Cambridge with her partner, the novelist and reviewer Colin Greenland.