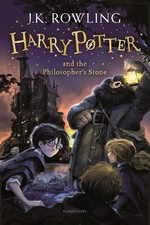 Harry Potter is an ordinary boy who lives in a cupboard under the stairs at his Aunt Petunia and Uncle Vernon's house, which he thinks is normal for someone like him who's parents have been killed in a 'car crash'. He is bullied by them and his fat, spoilt cousin Dudley, and lives a very unremarkable life with only the odd hiccup (like his hair growing back overnight!) to cause him much to think about. That is until an owl turns up with a letter addressed to Harry and all hell breaks loose! He is literally rescued by a world where nothing is as it seems and magic lessons are the order of the day. Read and find out how Harry discovers his true heritage at Hogwarts School of Wizardry and Witchcraft, the reason behind his parents mysterious death, who is out to kill him, and how he uncovers the most amazing secret of all time, the fabled Philosopher's Stone! All this and muggles too. Now, what are they?
Udgivet af Bloomsbury
J. K. Rowling
Joanne Rowling (born 31 July 1965), writing under the pen names J. K. Rowling and Robert Galbraith, is a British novelist, philanthropist, film producer, television producer and screenwriter, best known for writing the Harry Potter fantasy series. The books have won multiple awards, and sold more than 500 million copies, becoming the best-selling book series in history. Rowling has lived a "rags to riches" life story, in which she progressed from living on state benefits to being the world's first billionaire author. She lost her billionaire status after giving away much of her earnings to charity, but remains one of the wealthiest people in the world.