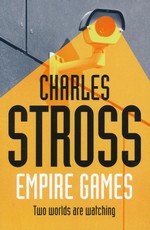 The year is 2020. It's seventeen years since the Revolution overthrew the last king of the New British Empire, and the newly-reconstituted North American Commonwealth is developing rapidly, on course to defeat the French and bring democracy to a troubled world. But Miriam Burgeson, commissioner in charge of the shadowy Ministry of Intertemporal Research and Intelligence—the paratime espionage agency tasked with catalyzing the Commonwealth's great leap forward--has a problem. For years, she's warned everyone: "The Americans are coming." Now their drones arrive in the middle of a succession crisis—the leader of the American Commonwealth is dying and the vultures are circling. In another timeline, the U.S. has recruited Rita, Miriam's estranged daughter, to spy across timelines and bring down any remaining world-walkers who might threaten national security. But her handlers are keeping information from her. Two nuclear superpowers are set on a collision course. Two increasingly desperate paratime espionage agencies are fumbling around in the dark, trying to find a solution to the first contact problem that doesn't result in a nuclear holocaust. And two women—a mother and her long-lost, adopted daughter—are about to find themselves on opposite sides of the confrontation.
Udgivet af Pan Macmillan Distribution Ltd.
Charles Stross
Charles David George "Charlie" Stross (born 18 October 1964) is a writer based in Edinburgh, Scotland. His works range from science fiction and Lovecraftian horror to fantasy. Stross was born in Leeds. In the 1970s and 1980s, Stross published some role-playing game articles for Advanced Dungeons & Dragons in the White Dwarf magazine. Some of his creatures, such as the death knight, githyanki (borrowed from George R. R. Martin's book, Dying of the Light), githzerai, and slaad (a chaotic race notable for their rigid caste system) were later published in the Fiend Folio monster compendium. His first published short story, "The Boys", appeared in Interzone in 1987. His first novel, Singularity Sky was published by Ace Books in 2003 and was nominated for the Hugo Award. In addition to working as a writer of fiction he has worked as a technical author, freelance journalist, programmer, and pharmacist at different times. He holds degrees in Pharmacy and Computer Science. Rogue Farm, an animated film based on his 2003 short story of the same title, debuted in August 2004.