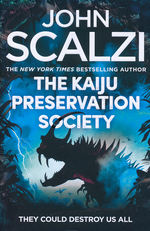 When COVID-19 sweeps through New York City, Jamie Gray is stuck as a dead-end driver for food delivery apps. That is, until Jamie makes a delivery to an old acquaintance, Tom, who works at what he calls "an animal rights organization." Tom's team needs a last-minute grunt to handle things on their next field visit. Jamie, eager to do anything, immediately signs on. What Tom doesn't tell Jamie is that the animals his team cares for are not here on Earth. Not our Earth, at at least. In an alternate dimension, massive dinosaur-like creatures named Kaiju roam a warm, human-free world. They're the universe's largest and most dangerous pandas and they're in trouble. It's not just the Kaiju Preservation Society who has found their way to the alternate world. Others have, too. And their carelessness could cause millions back on our Earth to die. This is a Scalzi book in all things pacing, humor, and tension. A light, uplifting COVID-19-escapist story in a Jurassic Park-like alternate world guaranteed to thrill even the most beleaguered readers.
Udgivet af MacMillan
John Scalzi
Scalzi was born in California and spent his childhood there, primarily in the Los Angeles suburbs of Covina, Glendora and Claremont. Scalzi went to high school with noted blogger Josh Marshall; both were members of the class of 1987. After his stint at The Webb Schools of California, Scalzi attended The University of Chicago, where he was a classmate of Pulitzer Prize-winning playwright David Auburn. Scalzi's thesis advisor, for a brief time, was Saul Bellow. Scalzi abandoned his course of study with Bellow when he became Student Ombudsman for the University. During his 1989–1990 school year Scalzi was also the editor-in-chief of The Chicago Maroon. After graduating in 1991, Scalzi took a job as the film critic for the Fresno Bee newspaper, eventually also becoming a humor columnist. In 1996 he was hired as the in-house writer and editor at America Online and moved to Sterling, Virginia, with his wife, Kristine Ann Blauser, whom he had married in 1995. He was laid off in 1998, and since then he has been a full-time freelance writer and author. In 2001 Scalzi, his wife, and their daughter, Athena Marie, who was born in 1998, moved to Bradford, Ohio, to be closer to family. On 15 March 2007, Scalzi announced himself as a write-in candidate for president of the Science Fiction and Fantasy Writers of America, citing disagreement with the only ballot-listed candidate's vision for the future of the organization. He was not elected.