Resultatet af din søgning på: sword stone table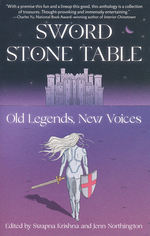 Featuring stories by a bestselling, cross-genre assortment of some of the most exciting writers working today, an anthology of gender-bent, queered, race-bent, and inclusive retellings from the vast lore surrounding King Arthur, Camelot, and the Knights of the Round Table. The stories are so iconic that just a name, a word, conjures romance and betrayal, chivalry and magic. These are legends so embedded in our culture that they feel real; that as early as the twelfth century, Geoffrey of Monmouth, Thomas Malory, and Edmund Spenser were like, "I gotta get to writing fanfic of that." Indeed, from their very earliest incarnations, these stories were waiting to be reinterpreted and retold; they have lived through the centuries because they were transformed. Sword Stone Table marks a continuation of that tradition and the start of a brand-new one. Here you'll find the Lady of the Lake reimagined as a Ugandan sorceress and the Lady of Shalott as a wealthy, isolated woman in a futuristic Mexico City penthouse spying on Lancelot via advanced technology; you'll discover Excalibur reformed as a baseball bat that grants a washed-up minor leaguer a fresh shot at glory and as a lost ceremonial drum that returns to a young First Nations boy the power and the dignity of his people. There are stories set in turn-of-the-century Chicago, '80s New York, twenty-first century Singapore, and space; there are lesbian lady knights, Arthur and Merlin reborn in the modern era for a second chance at saving the world and falling in love—even a coffee shop AU. Brave, bold, and groundbreaking, the stories in Sword Stone Table will bring fresh life to beloved myths and give long-time fans a chance to finally see themselves in their favorite legends.
Udgivet af Vintage
Swapna (Ed.) & Northington Krishna
Swapna Krishna covers space, tech, and pop culture at outlets such as Engadget, StarTrek.com, The Verge, and more. Jenn Northington, Manager, Editorial Operations, has worked in the publishing industry wearing various hats since 2004, including bookseller and events director, and is currently Manager of Editorial Operations at Riot New Media Group. You can hear her on the Get Booked and SFF Yeah! podcasts. When she's not working, she's most likely gardening, running, or (obviously) reading.